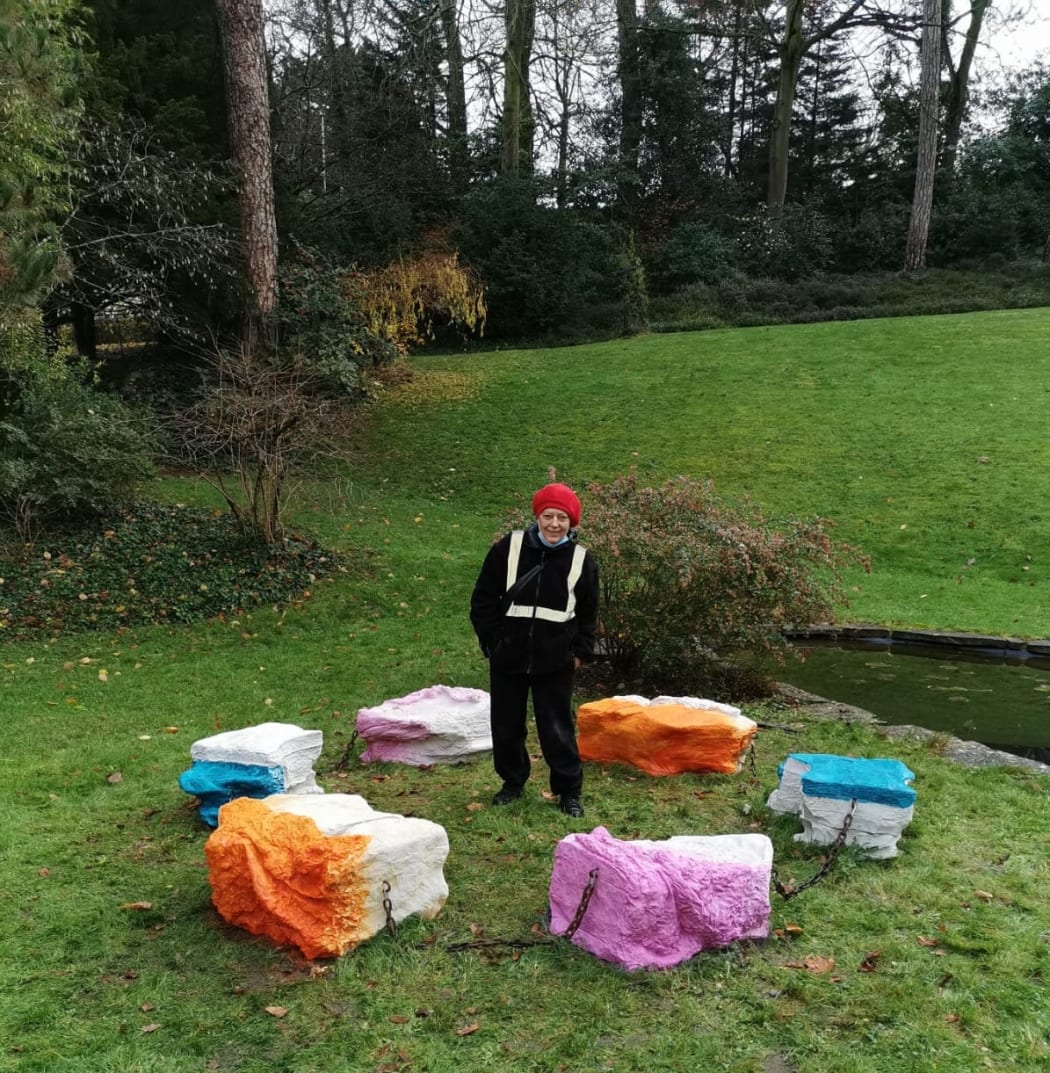 We are on the way back, by car we just left Pascal's workshop with whom I will make the bench sculpture (for once you can put your buttocks on a sculpture without fear ...).
we are going to cast in fiber concrete, I love to say fiber concrete (for the feeling of mastery and virility)
food fibers, fiber optics and finally fiber concrete from such remote areas and yet with this common point a filamentary structure that reinforces.
in short...
the module that we are going to mold comes from "Bouche moi ce Trou" a half flying saucer in extruded polystyrene, burnt, cut and associated with a fur coat mixed with acrylic medium: two wild materials
one ostentatious and elegant, the other concealed and ordinary in use both warm and insulate
the work of moulding is long, precise and delicate and it is Pascal who directs the operation (I like to associate Pascal with delicacy and I like to show off by talking about concrete) In contradiction with the slow process, I will compulsively swing in the concrete.
of the pigment one module will have its orange zone the other pink and finally blue, pigment to spice up the case ...
We continue our conversation Natalie tells me about the title
she thinks that the works must have a title, what she can't stand is to have to write down without a title I tell her the garbage cans don't have a title I want to be able to go on saying Garbage cans she answers
at that point you don't put anything without a title I realize that actually specifying without a title is a way of underlining that there could have been one it's sophisticated and therefore ridiculous.
Ok Natalie for the benches I'll think about it.
A few days later I have Georgia on the phone, we have a regular conversation about this project, and the three of us are having a conversation. It's a good thing there are three modules installed in a circle.
Georgia, I have the title
Miss Pink Miss Blue Miss Orange Miss Pink Miss Blue Miss Orange a tribute to Tarantino's Reservoir Dog, I see us with a drink in our hand choosing our bench,
oh me tonight it's Miss Pink ...